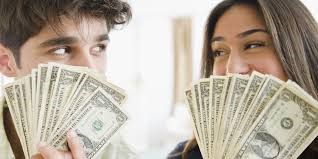 A few years ago, when I inherited a large sum of money, I struggled with depositing in our joint accounts. I wanted to make all the decisions about the money myself and didn't trust my husband to listen to my opinions. What I didn't realize was the distance and distrust I put between my husband and myself because of my desire to control the money.
When I finally agreed to put the inheritance in a joint account, the unnecessary tension which had existed between us disappeared. We sat down together and decided what we wanted to do with the money.
The most common reasons people give for getting divorced are sex issues and money problems. Head off the threat of divorce and learn how to spend your money together as a couple.
Work to solve the issues which arise about your finances and strengthen your marriage. As you decide where and how you want to spend each dollar, you make decisions about how you will live as a couple. Generate a financial plan and choose what you will do with your life and how you will use your time.
Who Controls Your Money
If you keep your finances in two separate accounts separate, you put a barrier between you and your spouse. Prove you trust each other and deposit your money in a joint bank account.
Do not wear yourself out to get rich do not trust your own cleverness. Cast but a glance at riches, and they are gone, for they will surely sprout wings and fly off to the sky like an eagle. ~Proverbs 23:4-5 
5 Secrets to Solve Money and Marriage Crisis
Develop a combined budget and include all income from both you and your spouse.
Add any additional savings accounts, investments and debts either of you brings to the marriage.
Create a budget that will meet your needs, pay off debt, and give you both a little Free spending money. If you are the one most comfortable, you make the budget.
Plan a Budget date once a month to go over the details of how you spent the money last month and what modifications you need to make in this month's budget.
Settle the cumbersome disputes and glitches of budgeting, and you will resolve many of your relationship hang-ups.
Updated blog post by Joyce Zook initially posted in 2015 on PracticalChristianWoman.com now JoyceZook.com.

Need a FREE Budget Tool?
Dave Ramsey, a Christian financial expert, has great tips and tools available. See EveryDollar.com for a free budget tool.